apini: "With BoondManager, the productivity cap was instantaneous"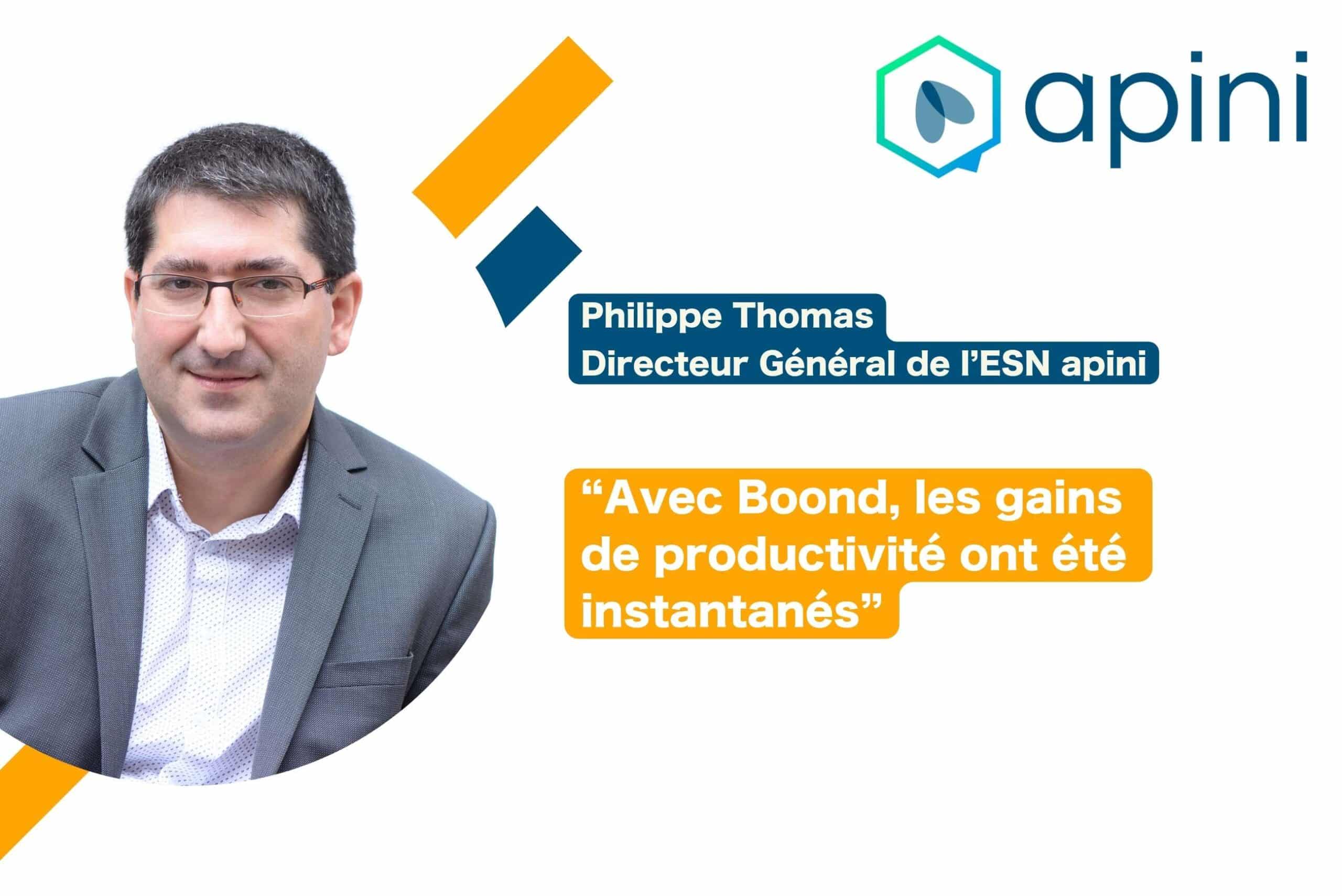 Can you introduce apini?
apini is an IT consulting and technology firm, which is specialized on 3 fields of expertise:
Consulting for the IT department and the business
Development and integration of solutions
IT operations and Cloud management
We are 80 experts and consultants, strong growth since we should increase to a hundred people, by the end of 2022. We operate throughout the country with agencies in the East of France, Lyon, Rennes and Lille.
Today apini has a turnover of 5M€ and a clientele that is evenly distributed between the private sector (tertiary, industry…) and the public sector (local authorities).
Why did you choose to use BoondManager at apini?
We were using a competing ERP that we were no longer satisfied with. A powerful tool, which on paper had many features, but which was strongly rejected by many of our users. Managers did not adhere to the business monitoring processes and employees, even for simple tasks such as time and expense management, did not understand them either. The functional logic was strong, but it resulted in an unacceptable ergonomics for our teams.
We knew about Boond because we had merged with Needone during our various takeovers and they were more than happy with BoondManager.
As a result, we ended up with an ERP that is much more accessible, much more ergonomic and with no loss of functionality. We found all the functional scope we needed.
It is important to note that we have benefited from an absolutely exemplary accompaniment! I'm not usually very complimentary, but honestly, Deborah did a wonderful job! We come from the world of service, we advocate this type of relationship with our own customers. And it is exactly this type of quality of service that I found at Boond. So obviously, I liked it a lot! Same feeling with Anthony, who is very attentive. It is clear that at BoondManager there is a commitment to service. You are certainly a publisher, but you have a very strong awareness of what service should be. Bravo for that!
You have an ergonomic and functional tool but also competent and committed collaborators to ensure that the integration with your customers is a success.
Since we switched to Boond, we have had no complaints or remarks of any kind about the ergonomics of the tool. Everyone uses it intuitively and without special training for consultants. Not a single employee asked for help on how to get started, as it is so simple.
What features do you like most about apini?
The management of the IT services comapnies's core business: contracts in the "régie" mode. The processes are amazingly simple. For us, what is important is the logic: from the need, through the project, the monitoring of consumption to the billing: everything is linked in a logical way natural, logical and ergonomic ! No need for big speeches or big trainings to understand how it all works and to use it on a daily basis. This is what was wrong with the previous ERP, where everything was complicated. Today, everyone knows what they have to do, where they have to go, we do it and we move forward! The tool should not be a brake, it should be an help. This is the case with Boond.
Have you gain any productivity?
The productivity gains were instantaneous! We especially see the difference in terms of buy-in and speed of implementation. Nobody missed the old ERP. This is totally exceptional! Changing Information System is our job, but such an obvious switch had never happened to us! It's a good thing we didn't have an important change management system because it would have been useless 😉