IT service companies: the expansion of the IT service market in 2023 is being confirmed!
Numeum, the French professional digital organization, announces the results of their first bi-annual conference concerning the 2023 IT service market. Last December, regarding the IT service market in 2022, the growth of the digital sector was expected to reach +5.9%. The estimations were revised and increased: it is now expected to be a +6.3% growth this year. Results equivalent to 2021's results according to Numeum.
In 2023, the digital market is in good health
For the entire sector, Numeum reevaluates their initial estimation of growth up to +6.3% for the year 2023. At a European scale, France's growth came 3rd place behind Spain (+6.9%) and the United Kingdom (+6.8%) but preceded Germany (+6%) and the Netherlands (+5.2%).
All careers benefit from an increasing turnover forecast:
Editors and Cloud platforms: +9.4%
IT service companies: +4.2%
Technology consulting in 2023 (ICT): +5.9%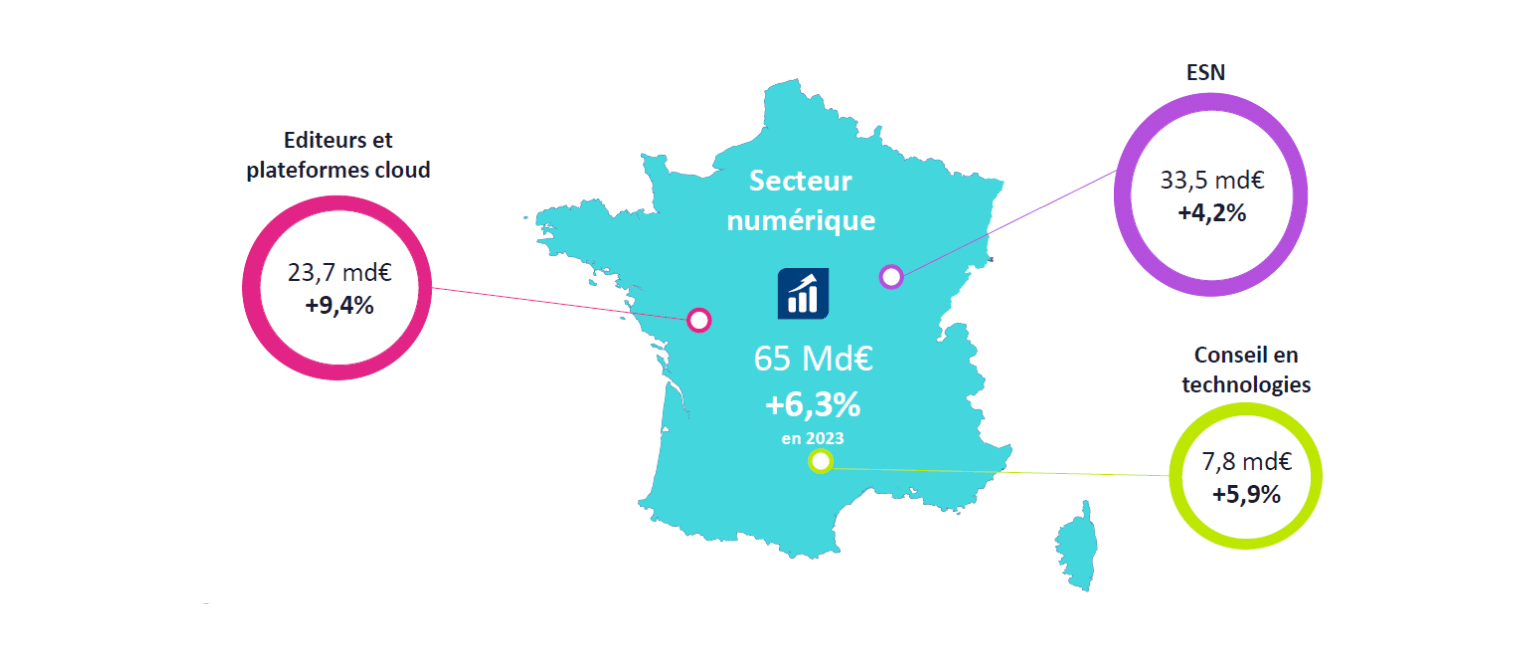 In 2023, the size of the digital market is estimated to 65 billion euros:
51.5% for the 2023 IT service market with 33.5 billion euros of turnover
36.5% for software editors and cloud platforms with 23.7 billion euros of turnover
12% for technology consulting with 7.8 billion euros of turnover
The growth of the digital sector is widely boosted by the cloud (+21.2%) and its implementation in many companies. This growth is also boosted by basic levers such as Big data, IoT services, security or even digital transformation.
According to the survey of 200 CIOs, conducted for Numeum, by the PAC, an Institute for studies, more than half of CIOs (51%) report an increasing IT budget for 2023; a slight decrease compared to last estimations (55%).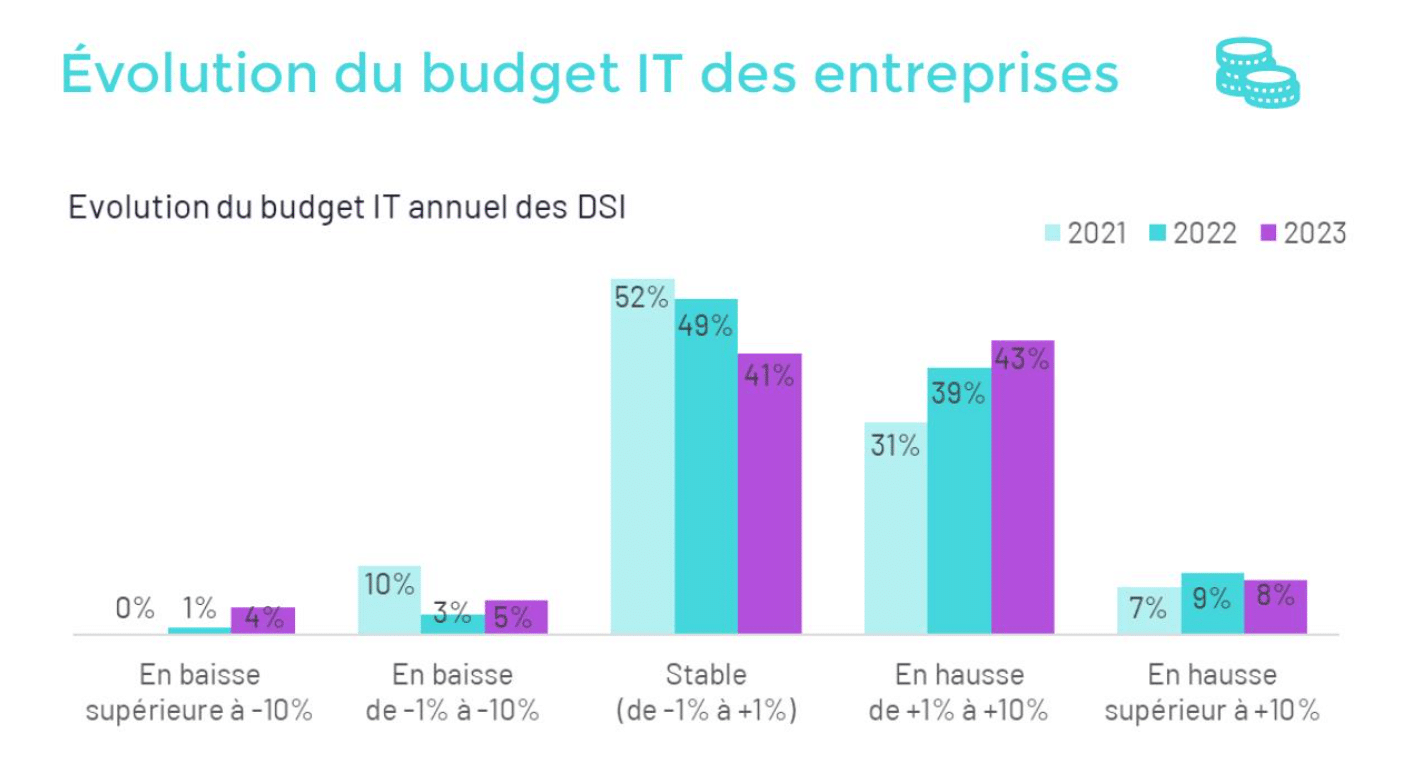 New digital priorities for IT service companies in 2023
For companies that are clients of digital actors, main IT goals, in order of priority, are:
Information systems security: 64%
Experience improvement: 58%
Data analysis: 51%
We also notice a high increase in the importance attached by CIOs for remote work (new implemented tools), but also for transformation towards the cloud and for optimizing their companies' internal process.
Sustainable digitalization is now, more than ever, essential criteria for CIOs:
58% of them have already implemented certain actions
11% have planned to do as such this year
They are about 87% planning to increase these actions in 2023
Jobs in the digital sector
As proof of its dynamism, the digital sector has a been a job creator for the 13th consecutive year with 47,000 jobs created in 2022. The barometer for jobs in French start-up companies conducted by Motherbase reports that French Tech has created more than 31,300 jobs in total in the period of May 2022 to May 2023.
Salaried workforce of the digital sector now represents more than 661,000 people.
Yet, according to the latest figures of the Montaigne Institute, 85,000 job offers in key professions of the digital sector are still vacant today. This talent shortage is nothing new. It increases while digital transformation is in the agenda of every company. Skills in the data, security, development and cloud sectors are the most requested.
Difficulties to attract specific profiles and increasing requirements for candidates forces companies to retain their talents' loyalty by focusing on multiple levers:
New working methods such as remote work
Trainings
Career development
Incentive plans
Professional reconversions
An agility that pays off: in the last few years, tech companies have been outshining in rankings related to workplace well-being (i.e. Great Place to Work rankings).
At the same time, 59% of CIOs tend to re-incorporate certain skills in their companies: security, cloud computing and IT production in particular. The lack of workforce, the criticality of events and the loss of skills in companies are the three main reported reasons for this. In this tense job market, they are about 86% to further recruit talents out of their digital service providers (from IT service companies, ICT, etc.)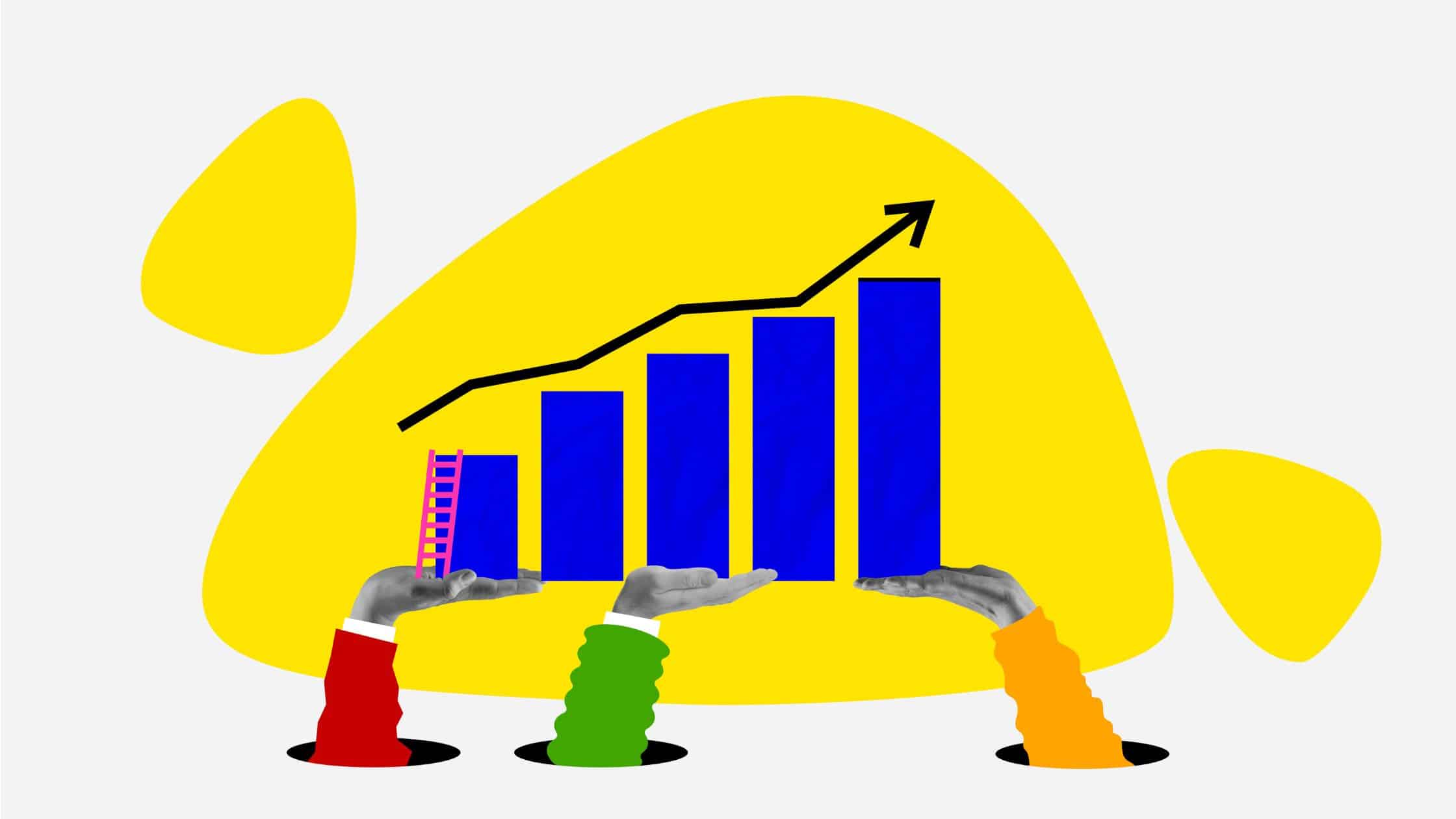 The rise of sustainable digitalization
This being the very heart of Véronique Torner's mandate (new president of Numeum since June), sustainable digitilization constitutes a powerful lever to concile environmental and digital transitions.
According to the survey conducted by the PAC for Numeum, 58% of companies in the digital sector have already executed specific actions in favor of sustainable digitalization, actions around 3 axes:
Environmental impact
Inclusion
Digital confidence
Furthermore, 77% of them have planned to intensify their actions in 2023. Simultaneously, 74% of companies in the digital sector respond to at least one invitation to tender with CSR criteria.
Chief Information Officers seize environmental issues related to their own activity. 37% of them include CSR, decarbonization and sustainable development criteria in their IT goals.
5 main growth levers to keep on boosting the French digital market and the IT service market in 2023
In an uncertain national and international economical context, 38% of IT service companies and ICT companies do not foresee an impact on their activities. Furthermore, they are 69% to think that, this year, the impact will be stronger than 2022.
As established in the previous semester, 5 strong trends continue to highly boost the digital sector, particularly the IT service market in 2023:
Cloud Consulting and Systems Integration (Cloud C&SI), an 18.6 billion euro market with +21.2% of growth expected in 2023: vertical cloud computing, global collaboration, the spread of the containers approach, the modernization and transformation of apps/infra etc..
Digital transformation, an 8 billion euro market with +6.4% of growth anticipated in 2023: customer experience, e-commerce, dematerialization, digitalizing processes
The Internet of Things (IoT), a 7 billion euro market with +19.6% of growth expected in 2023: the development of new solutions with 5G and edge computing etc.
Security, a 3.7 billion euro market with +11.6% of growth anticipated in 2023: growth in investment and externalization to prevent the resurgence of risks, attacks etc.
Big Data, a 2.8 billion euro market with +21% of growth expected in 2023: data collection and data usage to innovate business-models, develop new services, optimize operations etc.
"Figures testifying to the digital activity in France are extremely promising, revealing its lead role in the French economy. The creation of 47,000 jobs in 2022 is clear evidence of that. We are proud to have about 1 net job creation out of 6 to be from the digital sector in 2022. Moreover, it is encouraging to notice a growing awareness for a more sustainable digitalization. This dynamic must imperatively come with a positive impact economically, socially (notably in terms of trainings, inclusion and women participation in the digital sector), but also on a societal level (in terms of ethical standards, strategical autonomy and security) and of course, environmentally. It is essential that companies continue to further integrate the concept of sustainable digitalization in all of their decision processes. » declares Véronique Torner, President of Numeum.