IT service companies & ICT: 2022 overview & 2023 outlook
The IT service and ICT industry has known a higher growth than expected in 2022 and supposedly should keep on increasing in 2023, according to Numeum. In their semestrial study, disclosed this December 15th, about the 2022 overview and 2023 outlook of the industry, the professional organization estimated that the digital market has increased by 7.5% in 2022, up to 60.9 billion euros.
That's 0.1% better than the anticipated 7.4% communicated in their last semestrial study.
The IT service market has progressed by 5,1%, up to 31.9 billion euros
Software industries and cloud platforms increased by 11.3% (21.6 billion euros)
Engeneering companies and consulting firms by 7.4% (7.4 billion euros)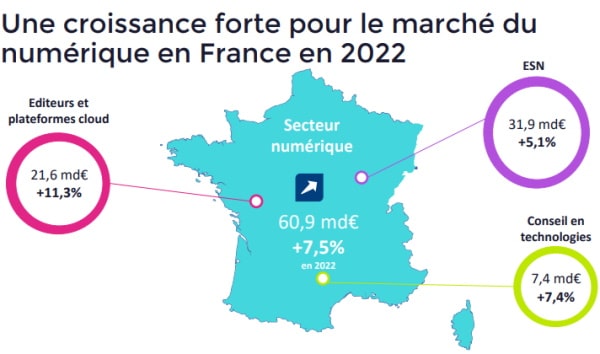 Growth drivers of the IT service market
The five main growth drivers of the industry were:
The Cloud – Consulting and system integration services: a 15.3 billion euros market with a +24.5% growth in 2022 (Vertical Cloud computing, universal partnerships, generalization of the containers approach, modernization and transformation of apps/infra etc..)
Digital transformation: a 7.6 billion euros market with a +10.2% growth in 2022 (customer experience, e-commerce, dematerialization etc..)
The IoT: a 5.9 billion euros market with a +19.1% growth in 2022 (developing new solutions such as 5G and edge computing etc..)
Internet safety: a 3.3 billion euros market with a +11.3% growth in 2021 (growth in investments and outsourcing to prevent the rise of risks, attacks etc..)
Big data: a 2.3 billion euros market with a +22.1% growth in 2022 (data collection & usage to innovate business models, developing new services etc..)
Recruting in IT services: the crux of the matter
After the net creation of 34,000 paid jobs in the industry in 2021, recrutment was still able to increase for 66% of respondents in the second semester of 2022. As a result, the "war for talents" still rages on and encourages companies to double their efforts to gain their employees' loyalty. Among the most popular means used for employee loyalty, there is:
Remote work: implemented by 72% of IT service companies
More training: 64%
Enrolling in specific career plans: 52%
IT service companies, above all, look for senior developers (4 out 10 employment offers). Industrial and technical IT jobs as well as big data careers display the strongest increase in terms of job offers in the first semester of 2022 compared to the first semester of 2021.
« Full data for 2022 is not yet complete, but we expect a data record of 40,000 or more. » Godefroy de Bentzeman noted a change in the employment market. «Our clients recruited with us more than they used to at some point.» In addition, he noticed «American firms poaching European experts». A tendancy further supported by the application of remote work. With regard to the latter issue, Véronique Torner, vice-president of Numeum, declares that «it dynamizes regions».
In IT service companies, the turnover rate is estimated to be between 17% and 25%, which is huge and results in "a raise of salaries with no increase of value and skills", says Godefroy de Bentzmann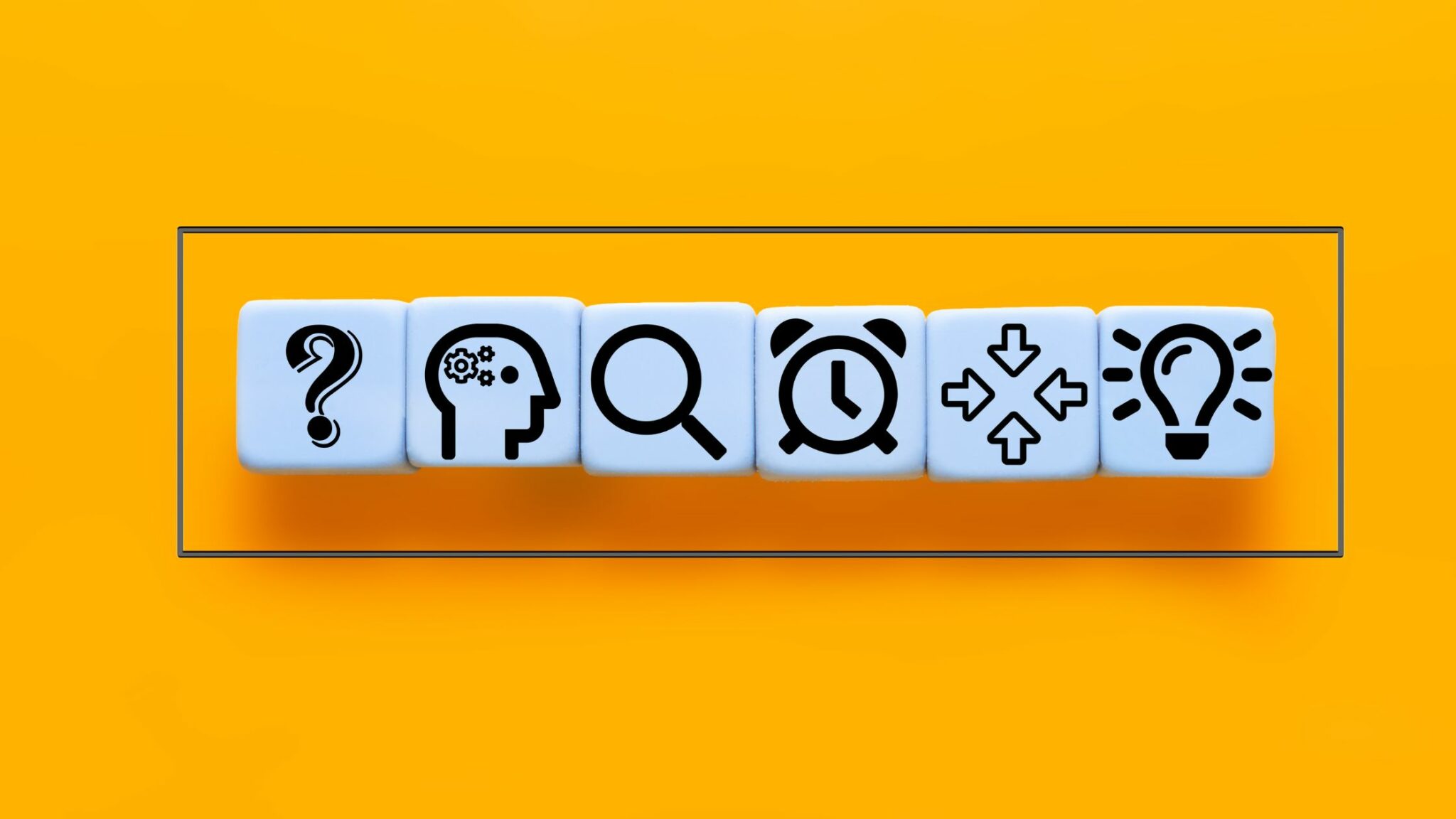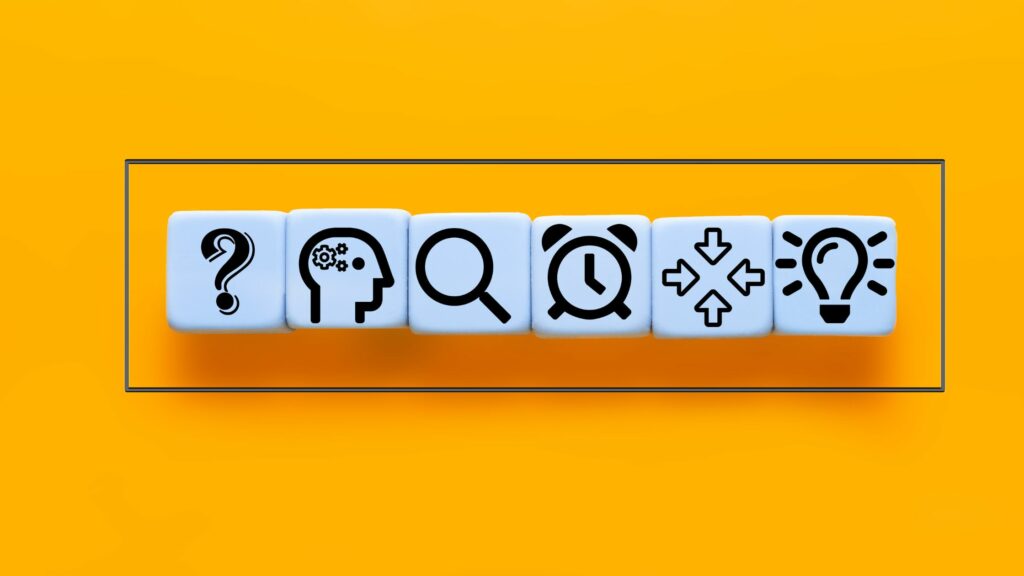 What is the impact on the economic situation?
The impact on the economic situation has been rather moderate for now, both on IT service companies and on clients. Only 32% of digital businesses were impacted this year and 31% anticipate to be impacted next year. However, if nearly 62% of CIOs felt impacted in 2022, the impact remains low or moderate for 81% of them. Nonetheless, for 83% of CIOs, the extent of the impact will be higher in 2023.
What are the priorities for IT service companies in 2023?
The emergence of the topic of digital ecology remains a significant element of the year. As a matter of fact, 93% of CIOs declare making their soliciting proposals within CSR criteria and 76% of digital businesses replied to at least one proposal including CSR requirements. A quarter of CIOs (28%) claim having IT projects in support of CSR concerns for ecology and 57% will have such projects in 2023.
« The CSR problematic will accelerate in 2023 », admits Véronique Torner by highlighting « the pressure led by young recruits within our companies ».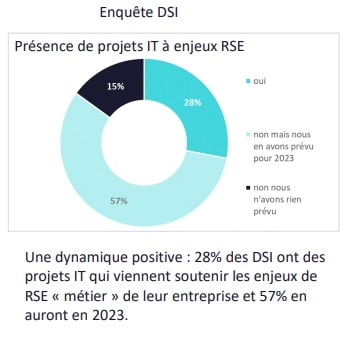 The IT service market outlook for 2023
Nothing to worry about, but the growth in digital market is expected to slightly slow down in 2023 according to Numeum. It should reach up to 5.9% with a revenue of around 64.5B€ . The organization however still observes CIOs' desire to keep on investing in some sectors such as digital security, big data and customer experience.
IT service companies should progress by 3.7%, publishors and cloud platforms by 9.4% and the IT consulting market by 5.6%.
On CIOs' side, we expect predominantly (55%) increasing budgets. A third of the respondents count on a stabilization of their budget and 11% expect a decrease. Their main areas of concern are:
IT security, for 62% of CIOs
Data analysis: 49%
Improving customer experience: 43%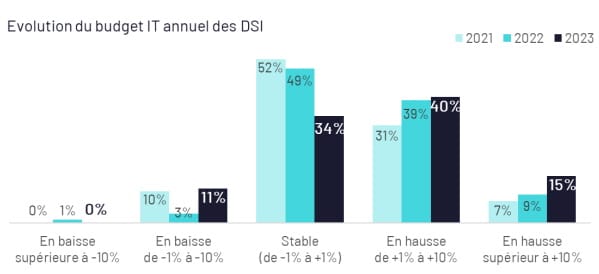 This decrease, Numeum also observes it on the orders book and on the occupancy rate year-on-year. To explain this timorousness, Godefroy de Bentzemann, co-president of Numeum, emphasizes that « the effects due to the war in Ukraine and the inflation had an impact in 2022 and will be stronger in 2023 ».
The vigorousness of IT service companies despite all
Even though the prospects are not as good, Numeum stays confident in the vigorousness of digital transformation in companies. « There is no arbitration in digital technology », points out Benoit Darde, administrator of Numeum and assiociate at Wavestone.