Thousands of freelancers available on BoondManager with Pylote
Recruiters! Get the update on the availabilty of thousands of tech freelancers on BoondManager with Pylote.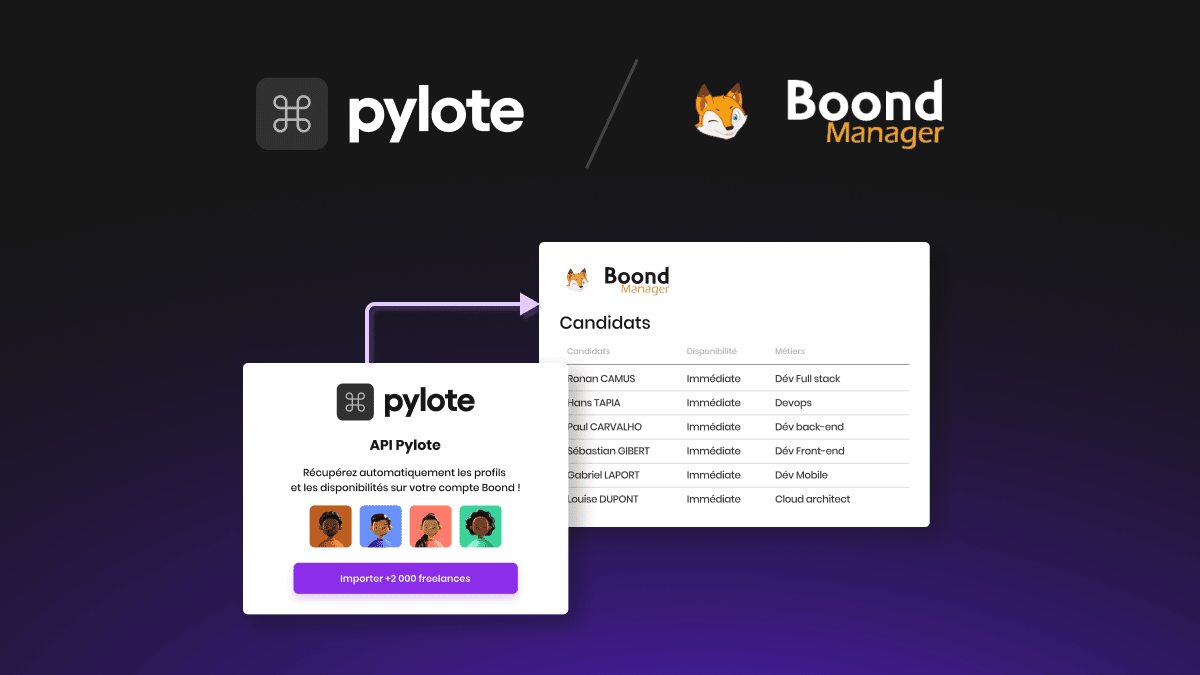 Good news: Pylote is now available on the BoondManager marketplace.
Pylote allows freelancers to automatically update their availability and profile for platforms and French tech recruiting firms (such as Malt, Crème, Comet, Free-Work or Cherry-Pick).
BoondManager offers to retrieve, automatically and on a recurring basis, the availability and profiles of tech freelancers directly to your candidate database.
Each week, more than 120 new tech freelancers sign up to Pylote, for a total of 2100 profiles (by 31/01/2023).
The start-up company has for goal to reach the total of 7000 freelancer profiles in 2023.
Since recently, they have been offering to recruiters to retrieve data automatically through their API.
Boond is the first ERP software to be natively synchronized with the start-up company!
You have nothing to develop! Everything is accessible with a few clicks on our marketplace.
With Pylote and BoondManager, you will be able to retrieve data from freelancers and easily add them on BoondManager:
Availabilities
Seniority
Average Daily Cost (ADC)
Techs
Occupation
Experiences
Duration of assignments
Preferences

With just a subscription, no more hunting and updating freelancers' availabilities by hand. Everything will be done automatically.