Aprico Consultants : "The value for money of BoondManager is unbeatable".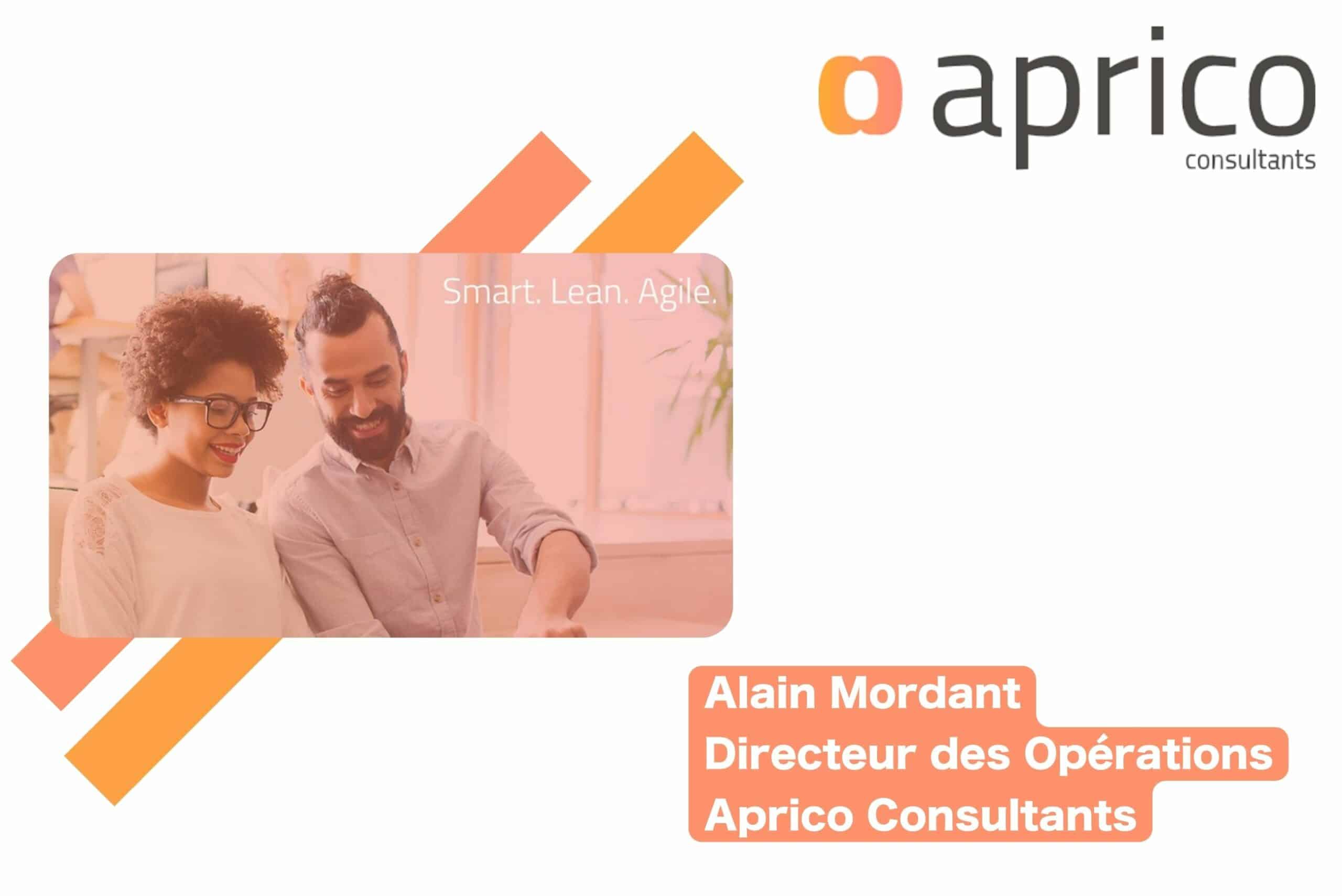 Aprico Consultants recommends the ERP BoondManager. With Alain Mordant, Director of Operations.
Can you introduce Aprico Consultants?
Aprico Consultants is a consulting firm based in Zaventem, Belgium.
We hire more than a hundred collaborators. We work in Belgium but also abroad, for instance through a branch in Tunisia.
In terms of missions, we cover all scopes, from posting consultants or teams to our clients, to carrying out the entirety of their projects and monitoring them.
We offer services in fields such as IT strategy, ICT development and in business process improvement. We position ourselves in all careers related to IT and to digital transformation consultancy.
Our clients come from all sectors: energy, finance, public services…
Aprico Consultants just celebrated their 25 years!
Why did you choose to use BoondManager?
This story took place in multiple acts! Our goal was to replace our internal tool that had been developed when creating the company. This tool had become obsolete and could no longer evolve with modern technologies.
Alongside, Aprico Consultants was going through a great growth. It was time for the company to provide themselves with better management tools.
A few years ago, we had done a benchmark of the market. We initially had identified platforms that were not dedicated to the market of IT service companies and consulting firms. We couldn't find our vocabulary, or our usual processes… Basically, they were tools that we had to "twist" even before using them.
Somehow dispirited, we had taken a break in our search, only to later start over in order to guide our high growth.
On the French market, we finally found a few ERPs dedicated to our activity with all the features we wished for. But what made us choose BoondManager rather than another tool, is its intuitive, refined, practical and easy-to-handle aspect.
BoondManager's logic is coherent with our business logic. Moreover, BoondManager meets the needs of an IT service company of our size.
It was also essential for us to have an ERP available on a mobile app. Our consultants, on missions, can have everything they need on their phones.
What are your favorite features at Aprico Consultants?
We started with features that were covered by our former software:
Timesheets, expenses & absences management
Projects management
Missions management
Invoicing
We are currently expanding our usage of the tool at the sales department:
CRM
Pre-sales
Management of potential offers
Opportunities management
Positionings
From now on, we are going to centralize the entirety of our data on BoondManager.
We have also contacted JobPosting who completes this aspect of publicating job offers and automatically creating candidates on the tool.
BoondManager is easy and clear, but it can also be an extremely powerful tool if well used!
Have you noticed any gain in productivity since using BoondManager?
Today, thanks to BoondManager, we have a way of working that is simpler, clearer and better organized. We generate our invoices according to timesheets monitoring; all our data is centralized, which gives us a great scope for work while still framing our processes.
Our organization is therefore more efficient and more fluid. Boond helped us a lot with simplifying our processes.
A great number of features make our lives easier today, on the daily.
What are your relationships with the teams?
We appreciate that your teams are open to continuous suggestions for improvement and specific to the belgian market. We sent our feedbacks to Deborah, our BoondCoach who guides us.
From the start, Deborah has been attentive to us and knew how to adapt to our rhythm and needs. For both her and us, the project was a success.
We're increasing our skills on the daily in order to save more and more time and I know that we can call you for help if needed, and it's quite appreciated. Your responses are always very quick, whatever the question.
How did your onboarding go?
We have promoted BoondManager by email internally multiple times. Then we had personalized onboarding, in waves, driven by internal ambassadors.
We have assited to the webinar on pre-sales, which helped us discover the best practices, such as using actions templates and email templates. I appreciate having different formats for improving skills that aren't necessarily videos.
Have you recommended Boond at Aprico Consultants?
I gladly recommend it whenever I'm talking to acquaintances in the sector. The value for money of the tool is just unbeatable compared to what we can find elsewhere. BoondManager evolves rapidly and has a enormous potential to keep on adding value to IT service companies.
Do you follow the launches of new features every 2 months?
Well of course! I follow news on the LinkedIn page, I automatically read the newsletters that I'm always impatiently waiting for.